Earn 10 Reward Points by commenting the blog post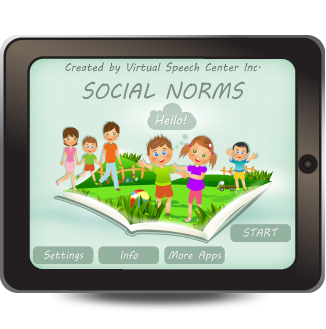 Today I am reviewing "Social Norms" a brand new app developed by the Virtual Speech Center to improve social skills in children with autism spectrum disorders. 

This app can be used by parents, educators, and SLPs. The users can customize it to add their photos, text, and audio to create individualized stories that teach specific skills to children with ASD with significantly impaired language abilities. It includes 53 stories on the following topics:
11 Manners Stories: Saying Thank You, Excuse Me, I Am Sorry, Saying Hi , Using the Inside Voice, Sharing with Friends, Asking for Help, Waiting for My Turn to Talk, Personal Space , Picking the Nose, Passing Gas
15 Hygiene and Health Stories: Washing Hands, Brushing Teeth, Washing Hair, Brushing Hair, Taking a Bath, Showering, Getting Dressed, Trimming the Nails, Using Hand Lotion, Putting Sunscreen, Using the Toilet, Headache, Stomachache, Runny Nose, Eating Healthy
3 Safety Stories: Crossing the Street, Bike Safety, Seat Belts
6 Home Stories: Going to Bed, Cleaning Up Toys, Doing Homework, Helping Mom and Dad, Staying in the Chair During Mealtime
8 School Stories: Asking Someone to Play with Me, Waiting in the Hall, Answering in the Classroom, Being Bullied, Being Teased, Recess, Fire Drill, Following Directions in the Classroom
5 Community Stories: Going to the Dentist, Going to the Doctor, Going to the Hairdresser, Going to the Restaurant, Going Shopping
5 Behavior Stories: Biting Others, Pushing Others (see below), Pulling Others' Hair, Hitting the Head on the Wall, Running Away
Each story (in the tradition of Gray's social stories) provides a series of clear visually supported steps and behaviors of what to do and how to act in a specific social situation, be it at home, school or in the community.  
All stories are written from first person point of view and state a specific problem (e.g., sometimes, I get mad at people and feel like pushing them). They provide examples of why someone might feel a particular way (e.g, I might get mad because someone doesn't want to share his toys with me). Stories use elements of perspective taking (e.g., Pushing other people is bad because it hurts them) as well as include first person affirmations (e.g., I will do my best not to push other people).
Stories also teach strategies of what to do/not to do (e.g., When I get mad I will …[see above]) to improve behavior as well as state who will assist the child with remembering to use his/her strategies in the time of need (e.g., An adult will help me remember not to push other people).
This app is a really nice addition to the social story toolkit of SLPs working with children with ASD and severe language impairments. In addition to possessing many relevant social stories on common topics SLPs can also create their own social stories by utilizing the photos and audio recordings of a specific child.
With respect to future app improvements I'd love to see the following:
Data collection option to keep track of the client's accuracy with a particular social story
The ability to both email and print actual social stories so other professionals working with the child could also use them to reinforce the child's abilities with respect to specific social behaviors.
The ability to add more text to existing stories as well as modify the text of existing stories to increase or reduce it's complexity
Different levels of complexity with the higher levels containing more sophisticated social scenarios, since in its current form the app is only useful for children with severe language comprehension and expression deficits
You could find this app for $9.99 on iTunes or enter my Rafflecopter giveaway below to win your own copy.
Disclaimer: Please note that after the contest's completion the winners will be announced on the Smart Speech Therapy LLC Facebook Page as well as named by the Rafflecopter app embedded in the blog post. Due to the amount of giveaways and contests run by Smart Speech Therapy LLC, winners will NOT be individually notified by email. Failure to claim your prize within a 3 day period following the contest's completion will result in the forfeit of your prize.