Earn 10 Reward Points by commenting the blog post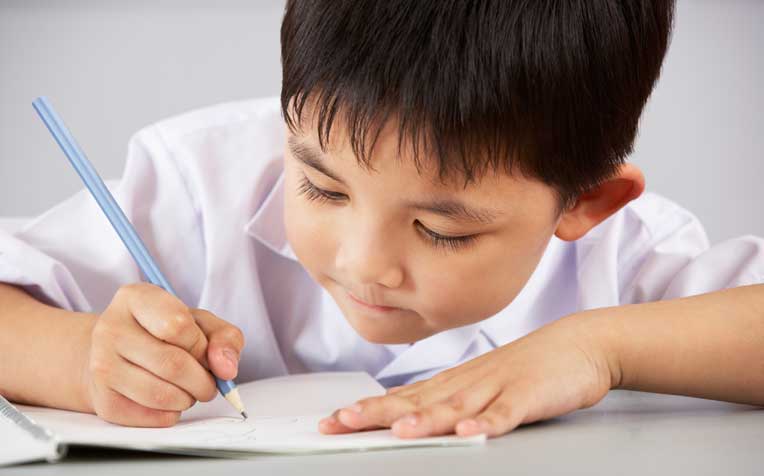 Recently I wrote a blog post regarding how SLPs can qualitatively assess writing abilities of adolescent learners. Today due to popular demand, I am offering suggestions regarding how SLPs can assess writing abilities of early-elementary-aged students with suspected learning and literacy deficits. For the purpose of this post, I will focus on assessing writing of second-grade students since by second-grade students are expected to begin producing simple written compositions several sentences in length (CCSS).
So how can we analyze the writing samples of young learners? For starters, it is important to know what the typical writing expectations look like for 2nd-grade students. Here's is a sampling of typical expectations for second graders as per several sources (e.g., CCSS, Reading Rockets, Time4Writing, etc.)
With respect to penmanship, students are expected to write legibly.
With respect to grammar, students are expected to identify and correctly use basic parts of speech such as nouns and verbs.
With respect to sentence structure students are expected to distinguish between complete and incomplete sentences as well as use correct subject/verb/noun/pronoun agreements and correct verb tenses in simple and compound sentences.
With respect to punctuation, students are expected to use periods correctly at the end of sentences. They are expected to use commas in sentences with dates and items in a series.
With respect to capitalization, students are expected to capitalize proper nouns, words at the beginning of sentences, letter salutations, months and days of the week, as well as titles and initials of people.
With respect to spelling, students are expected to spell CVC (e.g., tap), CVCe (e.g., tape), as well as CCVC words (e.g., trap), high frequency regular and irregular spelled words (e.g., were, said, why, etc),  basic inflectional endings (e.g., –ed, -ing, -s, etc), as well as to recognize select orthographic patterns and rules (e.g., when to spell /k/ or /c/ in CVC and CVCe word, how to drop one vowel (e.g., /y/) and replace it with another /i/, etc.)
Now let's apply the above expectations to a writing sample of a 2nd-grade student whose parents are concerned with her writing abilities in addition to other language and learning concerns. This student was provided with a  typical second grade writing prompt: "Imagine you are going to the North Pole. How are you going to get there? What would you bring with you? You have 15 minutes to write your story. Please make your story at least 4 sentences long."
The following is the transcribed story produced by her. "I am going in the north pole. I am going to bring food my mom toy's stoft (stuffed) animals. I am so icsited (excited). So we are going in a box. We are going to go done (down) the stars (stairs) with the box and wate (wait) intile (until) the male (mail) is hear (here)."
Analysis: The student's written composition content (thought formulation and elaboration) was judged to be impaired for her grade level.  According to the CCSS, 2d grade students are expected to '"write narratives in which recount a well-elaborated event or short sequence of events, include details to describe actions, thoughts, and feelings, use temporal words to signal event order, and provide a sense of closure." However, the above narrative sample by no means satisfies this requirement.  The student's writing was excessively misspelled, as well as lacked organization and clarity of message.  While portions of her narrative appropriately addressed the question with respect to whom and what she was going to bring on her travels, her narrative quickly lost coherence by her 4th sentence, when she wrote: "So we are going in a box" with further elaborations regarding what she meant by that sentence.  Second-grade students are expected to engage in basic editing and revision of their work. This student only took four minutes to compose the above-written sample and as such had more than adequate amount of time to review the question as well as her response for spelling and punctuation errors as well as for clarity of message, which she did not do. Furthermore, despite being provided with a written prompt which contained the correct capitalization of a place: "North Pole", the student was not observed to capitalize it in her writing, which indicates ongoing executive function difficulties with the respect to proofreading and attention to details.  
Impressions: Clinical assessment of the student's writing revealed difficulties in the areas of spelling, capitalization, message clarity as well as lack of basic proofreading and editing, which require therapeutic intervention.   
Now let us select a few writing goals for this student.
Long-Term Goals:  Student will improve her writing abilities for academic purposes.
Student will label parts of speech (e.g., adjectives, adverbs, prepositions, etc.)  in compound sentences.
Student will use declarative and interrogative sentence types for story composition purposes
Student will correctly use past, present, and future verb tenses during writing tasks.
Student will use basic punctuation at the sentence level (e.g., commas, periods, and apostrophes in singular possessives, etc.).
Student will use basic capitalization at the sentence level (e.g., capitalize proper nouns, words at the beginning of sentences, months and days of the week, etc.).
Student will proofread her work via reading aloud for clarity
Student will edit her work for correct grammar, punctuation, and capitalization
Notice the above does not contain any spelling goals. That is because given the complexity of her spelling profile I prefer to tackle her spelling needs in a separate post, which discusses spelling development, assessment, as well as intervention recommendations for students with spelling deficits.
There you have it. A quick and easy qualitative writing assessment for elementary-aged students which can help determine the extent of the student's writing difficulties as well as establish a few writing remediation targets for intervention purposes.
Using a different type of writing assessment with your students? Please share the details below so we can all benefit from each others knowledge of assessment strategies.