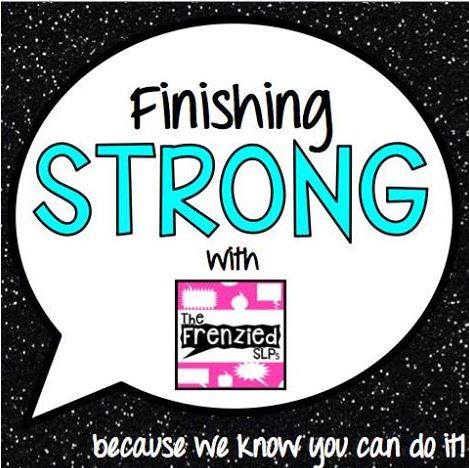 Flowers are blooming, the sun is out, birds are chirping and many SLPs are miserable. Why? Because the end is almost near. End of the school year that is! For many it just happens to be the most stressful part of the year.  The frenzy of activity increases, the workload is at times overwhelming, and it tough to keep a clear perspective.  So here are some tips I recommend on finishing strong for the remainder of the school year.
1. Visualize the Result
My favorite technique for dealing with difficult situations is to visualize the end result and create a clear picture in my mind a successful conclusion to an event. Visualize completion of all the paperwork, end of all the evaluations, a neat and tidy therapy room, or anything else that will bring you a sense of satisfaction and relief.
2. Distract Yourself  
Read a fun book. Something that doesn't require a lot of thought or deep emotion. Do not pick any serious literature such as the classics. Instead choose the thriller or a romance novel. Both of these genres can be very effective for different reasons.  Thrillers take you on an adrenalin-laden roller coaster ride so they are a fun way to get distracted.

Select romance genres such as the Harlequins or Mills and Boon Modern provide a visual escape allowing you to enter a world of private jets, mega yachts, personalized designer shopping, and private islands. Now before some of you start wondering regarding the choice of reading in my spare time, let me set your mind at ease.  The information on romance novel comes as a result of the undergraduate grant project rather than personal experience.  I am still a 'political/medical thriller' type of gal :).
3. Plan a vacation
Now this point some of you may strongly object! What if we don't have the money or the time to do so? I didn't say you should take a vacation. I said you should plan it. Here's why. A study, published in the journal Applied Research in Quality of Life, showed that a huge boost in happiness comes from the simple act of planning a vacation. In the study, the effect of vacation anticipation boosted happiness for eight weeks. "After the vacation, happiness quickly dropped back to baseline levels for most people."
These are just some of my strategies which keep burnout at bay. What are yours?