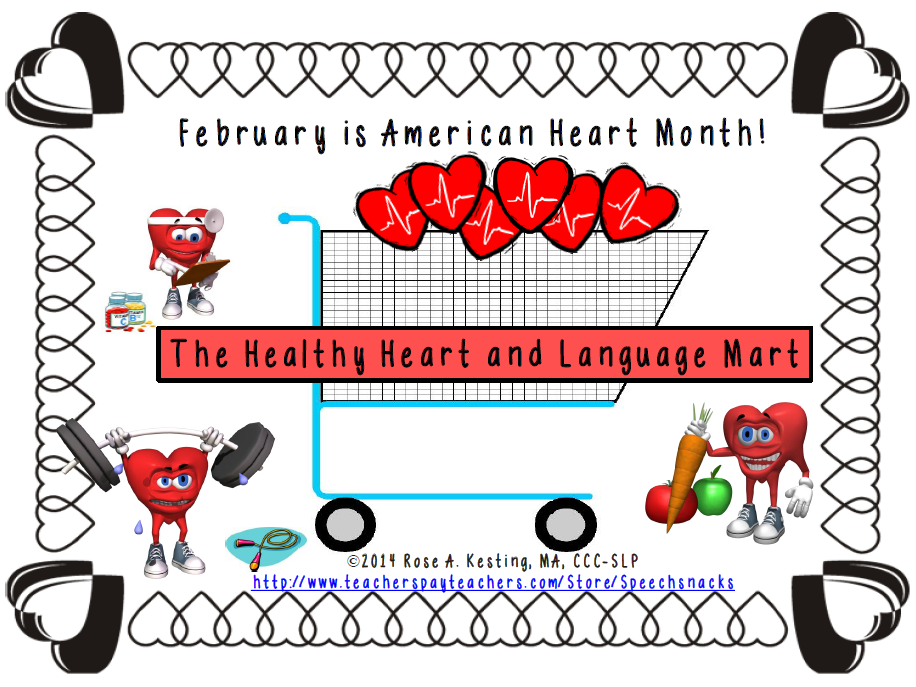 Last February I did a product swap and giveaway with the fabulous Rose Kesting of Speech Snacks. It was entitled "Wintertime Wellness:Language Building, Problem Solving & Reading Comprehension" and was aimed teaching students aspects of health and wellness as pertaining to the cold and flu season.
This February, I am at it again, reviewing her "Healthy Heart & Language Mart" companion for middle and high school students.  As I've mentioned in the past Rose runs a fun and unique blog. In her posts she combines her interest in nutrition and healthy cooking with her professional knowledge as a speech-language pathologist.  
Rose created the "Healthy Heart" packet as a way to help create a greater awareness of good health, nutrition and fitness while improving language skills during American Heart Month in February. Now I know what you are thinking, Tatyana its February 24th, why are you giving away this packet when there are only 4 days left in February?
Simple really! It may be the end of February but the topics of "good health, nutrition and fitness" do not end there and are just as important during the cold month of March.  Furthermore, many of our students are limited in their choices of physical activity during the winter months due to lack of opportunities or resources, which is why this packet continues to be relevant and useful vocabulary-wise long past the month of February.
Main Packet Contents:
Vocabulary Cards, Definition Cards, Synonym Cards, Question Cards, Sentence Writing Page, Sentence Writing Worksheets, Grammar Correction Worksheets,  Figurative Language Cards, Problem Solving Photos, Reading/Listening Comprehension Cards as well as Shopping Cart Game Mat/Grocery Bags Game.
Packet Overview:
One of the most hugely impressive parts of this packet are the diverse types of Tier II vocabulary words pertaining to health, wellness, and fitness.
Rose created 24 vocabulary cards to match the 24 definition cards to introduce the vocabulary for the students. She placed the key words or context clues in BOLD font to assist students in determining the correct answer. Similarly, she created 24 synonym cards with matching definitions to further improve the student's knowledge and use of health-related vocabulary words.
After that to reinforce the students' knowledge Rose created comprehension questions cards (Beating Heart Bonus) pertaining to the above vocabulary words to ensure understanding of presented information.
I also like to pair the above comprehension question cards with pages 28-31 from Rose's packet which contain 8 health-themed passages. These passages contains 2 sets of questions: factual and inferential to differentiate the question complexity. While many students are able to easily answer factual text-based questions they may  present with significant difficulty producing responses to inferential questions, so this may be an area on which SLPs can spend additional time working on in sessions.
Once that knowledge is solidified, students get an opportunity to write sentences with the presented vocabulary words.
Finished writing? How about some good old-fashioned grammar work? Students can work on identifying run-on and simple/compound sentences as well as work on expanding sentences to increase their written output.
Then have some fun with figurative language by identifying idioms and applying them in action.
Then move on to Problem Solving activity by answering questions based on real-life photos that involve real-life scenarios. I love the fact that besides identifying the problem the student must provide two possible solutions  to the problem. Here I also asked my students to provide justification for their solutions in order to solidify their knowledge as well as to make sure that they are producing coherent responses. 
Finally, finish up with the Shopping Cart Game Mat/Grocery Bags Game, which my students love. We play it as a game of chance. I distribute the definitions cards (face down) and mats to the students and then draw a vocabulary card from the pile, which I then read to them. The student who has the correct definition gets a 'grocery bag' to put on their mat. The first player to collect all six grocery bag categories is the winner! (Don't forget to make copies of one shopping cart and one set of grocery bags per player).
Also don't just use this packet for one or two sessions. Research indicates that students with language impairments need much more exposure to new and challenging vocabulary words in order to be able to use them in a proficients manner. So I've been actually using portions of this packet (which I had since last year's FB Frenzy) with my students for WEEKS.
Again as with all of Rose's products, I found this packet to be incredibly useful because of how multifaceted it is.  It is connected to the common core with respect to topic (health and wellness) and content areas (vocabulary, comprehensions, figurative language, etc).
The information it has is timely and relevant and is useful not just to address language goals in academic setting but also contains real life application (students need to know this information in order to engage in healthy lifestyles).
But what I really like about her product is that she uses research recommended evidence based strategies to teach students with language impairment new vocabulary words.
My students really enjoyed working with this packet and didn't feel like it was a chore because of all the new words they learned in an interactive format.
You can find this packet in Rose's TPT store HERE for $7.00 or you can enter my Rafflecopter giveaway for a chance of winning your own copy.
But wait there's more!!! Rose is doing a review of my product "Treatment of Social Pragmatic Deficits in School Aged Children", so if you head on over to her BLOG and read her review you'll be able to enter both giveaways!