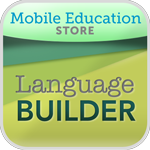 Since many of the students on my caseload are currently working on improving their sentence formulation abilities I was very excited when I was given an opportunity to use Language Builder App from Mobile Education Store to aid them in this process.
First let me tell you a little bit about this app.  Its aim is very simple and that is to expand and improve receptive and expressive abilities of children with language deficits. The app which contains 3 levels of difficulty shows the student a real life photo of a situation and asks him/her to create a sentence based on that picture. The students are given a written hint if they struggle as well as the option to record their sentence for analysis.
 After registering a specific student you start off with the main screen where you make your decisions regarding which level and theme to use, whether you want to show hints, as well as whether you want to keep audio instructions.
Overall there are 3 levels of hints: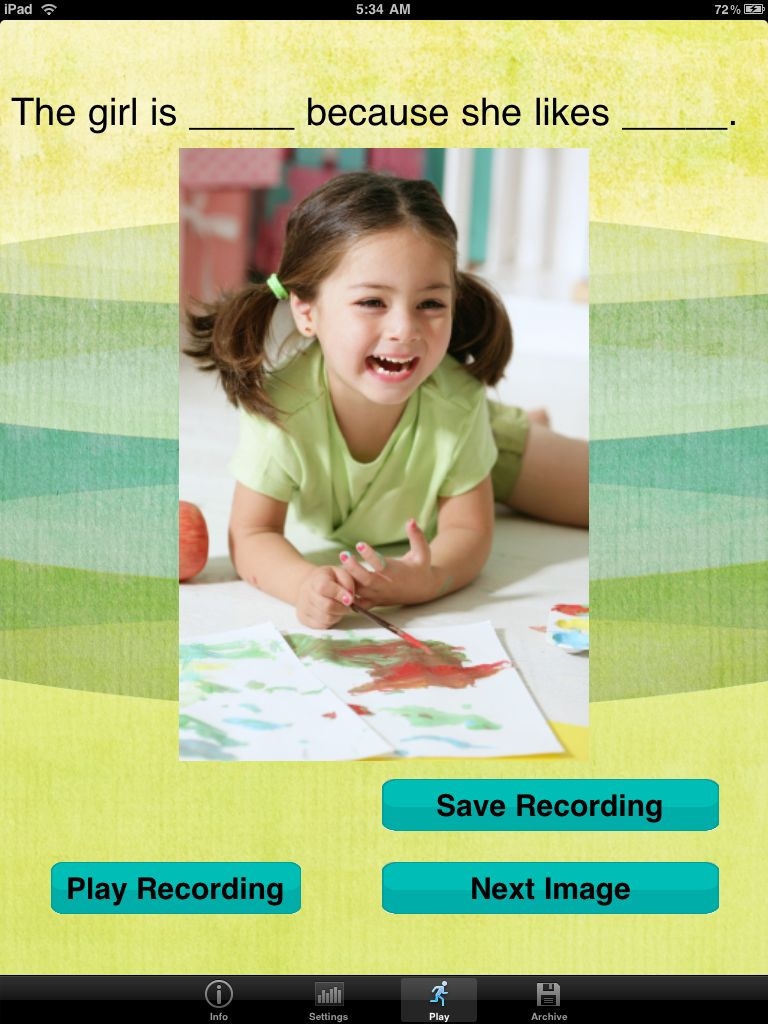 Level 1: Fill in several missing words in a sentence
Level 2: The student receives a carrier phrase he/she must finish such as"The boy…"; "The students…"; "The man…"
Level 3, which is the most advanced level offers no written hints but instead provides audio prompts. For example use the words "water and boat" in a sentence or use the words "hockey and lake" in a sentence.
On all 3 levels the students' sentences are recorded for playback and analysis and can be saved in an archive.
So whom have I been using this app with? Actually I've been using it with students with a variety of language deficits ranging from mild to profound.  I have been using the app in a variety of ways in addition to its specified uses. Below are a few examples:
Grammar (is/are; do/does; has/have; was/were)
Syntax (compound and complex sentences using 'yet', 'so', 'but', 'because', 'although', 'however', 'otherwise')
Semantic Flexibility: (antonyms, synonyms, multiple meaning words, definitions, categorization)
Semantic Absurdities: (give the child a sentence which doesn't make sense and then ask them to correct it )
Social Skills:
Making Inferences, Multiple Interpretations, Interpersonal Negotiation (make up own scenarios)
What do you think s/he is thinking/feeling?
How do you know what s/he is thinking/feeling?
How can you tell?
Where do you think s/he is?
Where else could they be?
How do you know?
What I like:
This is an extremely easy to use  multilevel app which has a variety of applications with a wide range of populations. It can be used as directed or enhanced (as described above).
The ability to store and analyze recordings is a plus and is especially important for the times when the student is actually making progress and is then able to compare the before and after productions and offer constructive feedback.
Recommended enhancements:
Audio model to demonstrate correct sentence structure for the students after they had completed their own sentence.
Data tracking per picture to receive audio and visual feedback regarding whether response was correct or incorrect.
Audio hints for levels 1 and 2 since the children with whom I work on these levels cannot read, which means that I have to read to them (and since I have slightly accented speech as I am not a native language speaker, children with profound language processing difficulties on my caseload require multiple repetitions of presented stimuli)
Since some many school based SLPs have huge caseloads an option to work on skills in a group setting and collect data per student is strongly recommended. However, I hear it on good authority that the group setting will be added to all the Mobile Education Store Apps. 
However, even with these recommended enhancements this app still offers good value $9.99 (especially if you catch it on sale or during a promotion when you can get it half price).
Now for the fun part, thanks to Kyle Tomson I'll be giving away one copy of the Language Builder app, so feel free to enter my Rafflecopter giveaway for a chance to win it.